About the Court
Mansfield Municipal Court has jurisdiction over all of Richland County, with the exception of Shelby, Shiloh, Plymouth (Richland County) and six Northern Townships. The Court handles traffic, misdemeanor criminal and civil cases. Judge Jerry Ault is currently the Presiding/Administrative Judge and was sworn into office on January 1, 2000. Judge Frank Ardis, Jr. was sworn to the bench on January 25, 2010.
The court has been a state and national leader in developing innovative approaches to reduce recidivism while lowering the cost to taxpayer of operating the court. By 2004 the court was operating two Specialized Dockets, among the first in the country. (Drug Treatment and Mental Health Court)
While some refer to these courts as "Problem Solving Courts", a Specialized Docket is designed to hold offenders accountable while working with them to address challenges often contributing to their actions such as substance abuse, addiction and/or mental health issues. By addressing these problems utilizing monies from grants and other non-tax funding sources, the offenders often do not repeat the offense. Reduction of offenders repeating their offenses remains a significant goal of the Specialized Dockets.
During 2008 the court opened a Domestic Violence Specialized Docket and in 2009 a Veteran's Court. Both along with the Mental Health Docket were one of the first in the United States. Today Specialized Dockets are common in Ohio and across the country.
Among other programs designed to better serve the public good while reducing the cost of incarceration include probation and house arrest programs such as TIDE, Diversion, Electronic Monitoring, and General Probation. On the civil side a new Mediation Program serves to expedite resolution of some cases while stream lining others to be heard by the court.
The Courts' two Magistrates, Magistrate John McCollister and Magistrate Lore' Whitney were appointed as Court Magistrates by Judges Ault and Ardis. The Magistrates handle traffic, civil cases, evictions and small claims cases. The Magistrates also conduct criminal and traffic arraignments.
The Judges and Magistrates work closely together in an effort to ensure fair and even handed justice. Judge Ardis and Judge Ault, as well as Magistrate McCollister and Magistrate Whitney encourage the public to come view Court sessions. Additional information about your court can be found on this website or by calling the information found under "Contacts".
---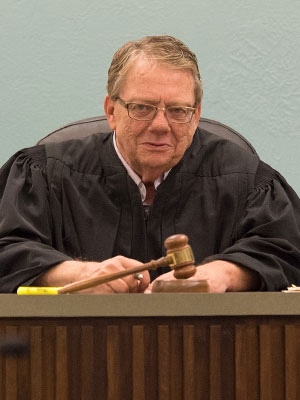 Honorable Judge Jerry Ault
Prior to being elected to the Mansfield Municipal Court in 1999, Judge Jerry Ault was a Richland County Prosecutor for 21 years. After being elected to the Bench, Judge Ault began a progressive approach that brought many changes to his courtroom. These innovations have earned him recognition as a judicial leader throughout the State of Ohio.
Realizing the need for alternative sentencing, Judge Ault introduced several specialty courts, which operate as Specialized Dockets within the court. Participants agree to comply with strict supervision and treatment requirements if approved to enter these programs. These courts increase collaboration between the court and treatment providers, which has been proven to be cost-effective and reduces recidivism.
Judge Ault first instituted a Mental Health Court in 2004. Realizing that a large percentage of defendants suffer from mental illness, these offenders are required to complete treatment for their mental illness. The treatment program is less expensive than incarceration. His Mental Health Court is the third such court in the State of Ohio
Domestic Violence Court was added in 2008. It was the first in the State and one of the first in the U.S. Although it also incorporates treatment, it is a far more punitive program than his other specialty courts.
The most recent specialty court added was Veterans Court in 2009. It was also the first in the State of Ohio and one of the very first in the Country. Judge Ault feels that many veterans' returning home from combat suffer unique problems incurred as a result of their service to our Country. For this reason Judge Ault considers it the duty of society and of the Court to incorporate treatment with justice.
These innovations have earned Judge Ault recognition as a judicial leader throughout the State of Ohio. Supreme Court Justice Evelyn Stratton and former Attorney General Richard Cordray have called Judge Ault a leader and pioneer within the Judiciary. The Ohio State Supreme Court uses Judge Ault's specialty dockets as model courts. Over one hundred law enforcement and court personnel, including judges, have visited his court.
Including the Drug and Alcohol Treatment Court that Judge Ault inherited, he was the first Municipal Court Judge in the United States to conduct four specialty dockets. His leadership and approach to the diverse causes within the Judicial System has made a real difference in countless lives for the betterment and safety of our community.
---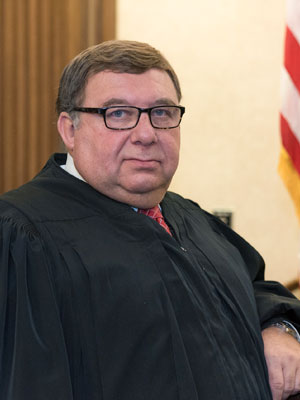 Honorable Judge Frank Ardis, Jr.
Prior to his appointment to the Mansfield Municipal Court by Governor Strickland in January of 2010, Judge Ardis was in private practice as a senior partner in a Mansfield law firm for over 35 years, concentrating on personal injury, civil litigation, criminal defense and probate practice.
Judge Ardis also served as a part-time Assistant Richland County Prosecutor from 2007 to his appointment as Judge in January, 2010. Additionally Judge Ardis also served as a part-time Richland County Domestic Relations and Juvenile court Magistrate from 1987 to 1992, part-time Assistant Mansfield Law Director from 1974 to 1979 and Special Counsel for the Ohio Attorney General from 1983 to 1987. He also held a position on the Board of Trustees of North Central State College from 1983 to 1987.
Realizing the importance of the specialty courts, Judge Ardis also operates a Domestic Violence Treatment Court Docket, Drug Treatment and Mental Health Docket and a Veteran's Court.
Additionally as a result of his extensive private law practice in civil litigation, Judge Ardis instituted a Mediation Program, utilizing Mediators to obtain more timely and fair resolution of individual civil disputes. Further, Judge Ardis while in private law practice served as Attorney and Guardian for more than 40 mentally ill persons and therefore, is well acquainted with these individuals and their treatment. Consequently, Judge Ardis' Mental Health Court is very effective in working with treatment providers and supervising mentally ill criminal offenders.
Judge Ardis feels that all of these programs serve to promote fair and individualized justice while protecting the public. While operating these programs clearly serve the public good, the court works to provide most of these programs utilizing grants and other non-tax funding sources.
---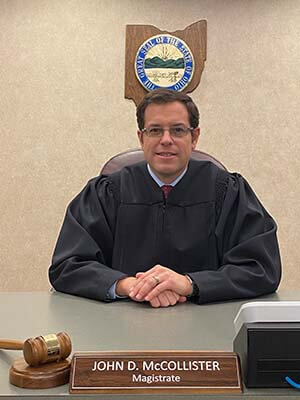 Magistrate John McCollister
Magistrate John McCollister has been a Magistrate with the Court since 2017. Prior to his appointment as Magistrate, Mr. McCollister was an associate attorney with the Columbus based law firm Koenig and Long, LLC, representing criminal clients in Common Pleas and Municipal Courts. Mr. McCollister began his career as an Assistant Law Director with the Mansfield Law Director's Office, where he remained for nine years. Mr. McCollister received his Juris Doctorate Degree from Capital University Law School and his Bachelor's Degree in Economics from Ohio University.
---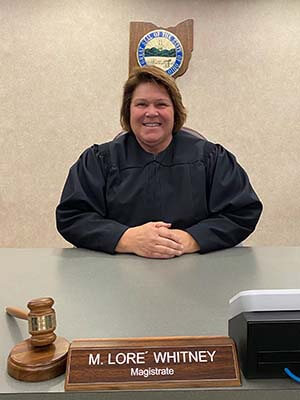 Magistrate M. Lore' Whitney
M. Lore' Whitney has been a Magistrate since 2019. Now a part time Magistrate, Lore' is also in private practice with the firm of Inscore, Rinehardt, Whitney and Enderle. Magistrate Whitney is also a member of the Ohio Association of Magistrates. In her spare time, she volunteers with the Lexington Athletic Booster Club and works on her farm. Magistrate Whitney received her Juris Doctorate degree from Ohio Northern University College of Law, received her Masters of Science degree from Murray State University, Murray, Kentucky and her BS degree from Heidelberg College.